Today, when consumers are online everywhere and always, it is a must to have a powerful digital food ordering system to grow your food and drinks business. The right digital commerce solution with optimal self-ordering for your customers will fuel your sales and reduce your costs.
The goal for the food ordering system is to increase your market share, the basket size per customer, and customer satisfaction, and finally to reduce your operational costs.
In this article, you will learn what an advanced, digital food ordering system looks like. You will learn about the value different parts of a food commerce solution can bring to your company. We will share insights from international studies and those we have gained through developing food ordering systems for some of the fastest developing food service businesses in Denmark.
What does an advanced food ordering system look like?
What does an advanced food ordering system look like?
An advanced food ordering system for restaurants will:
support all the main digital ordering methods, i.e. ways in which your customers prefer to order food
through appropriate channels making it possible for the customer to use the platform and device of their choice.
Let us first take a brief look at the ordering methods and channels.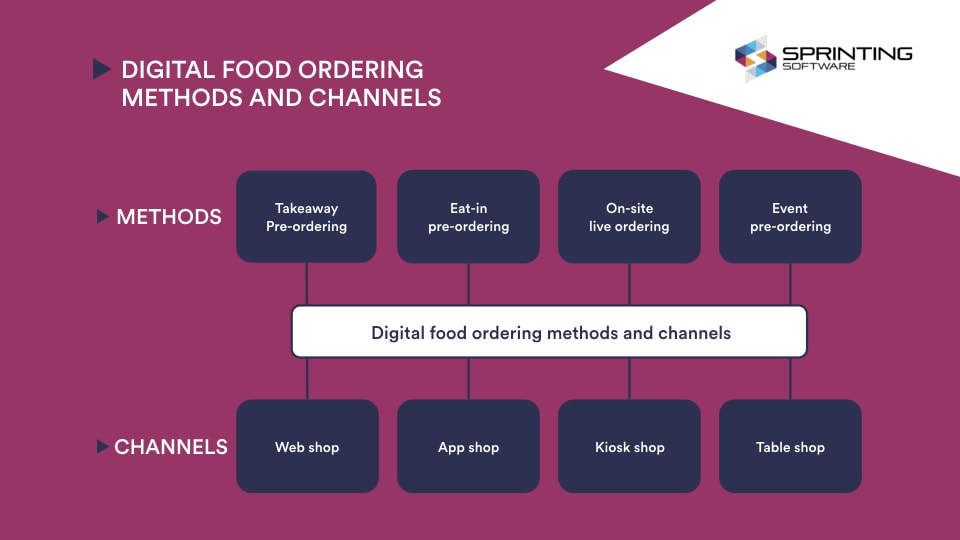 Ordering methods and channels for food businesses
Ordering methods and channels for food businesses
As you can see in the image above, in addition to the traditional order taking where your staff manually takes orders from your customers, there are four main digital self-service ordering methods you can introduce:
Takeaway pre-ordering
Eat-in pre-ordering
On-site live ordering
Event pre-ordering
To ensure increased digital sales, you should introduce an ordering system that supports the methods that are relevant for your restaurant, café, canteen or catering service.
All of these methods can be included in an advanced food ordering platform that can support the following ordering channels:
Web shop
App shop
Kiosk shop
Table shop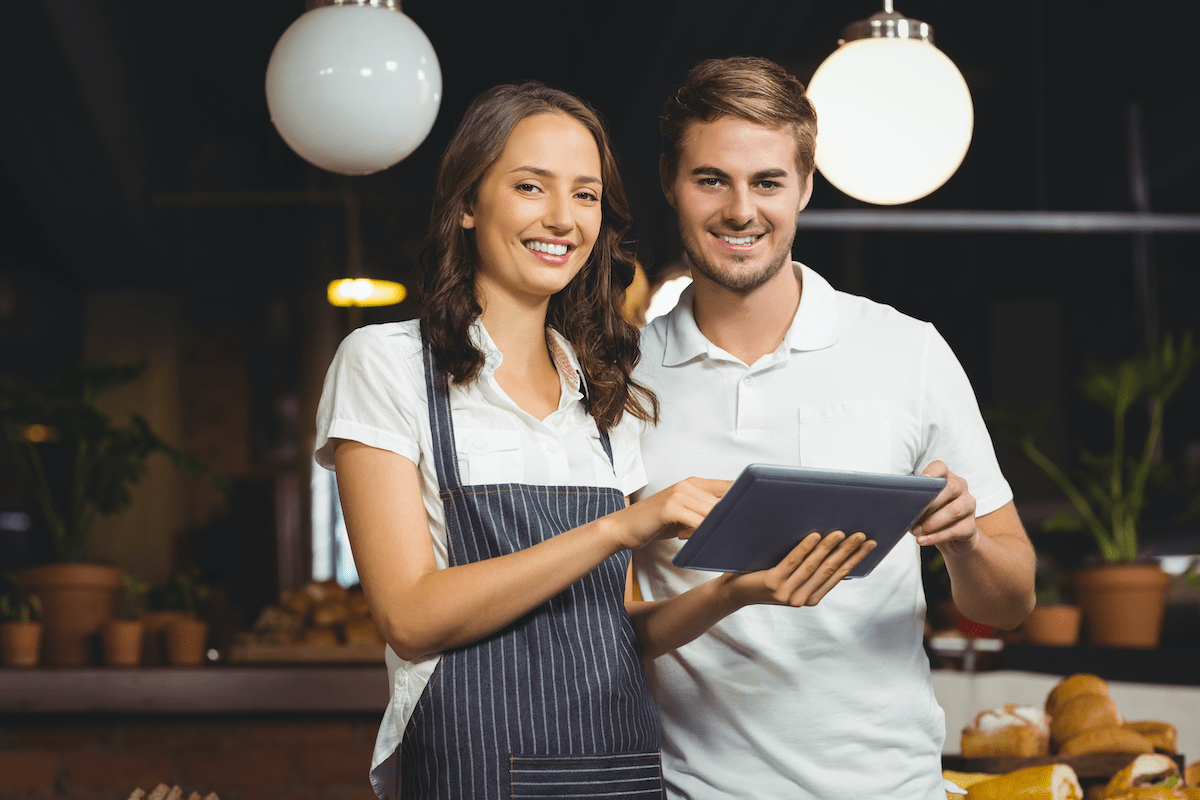 The business value of a digital food ordering system
The business value of a digital food ordering system
A good digital food ordering system brings value both to the end-customer and to the food company. Here are the main benefits customers and businesses gain from introducing an advanced ordering platform.
Business value:
Increased sales and upsells
Fast and easy launching of new products
Optimisation of internal work processes
End-customer value:
Enhanced convenience and customer experience
High ordering speed
No waiting for being serviced
Main aspects of an optimal food ordering system
Main aspects of an optimal food ordering system
As mentioned, a strong digital self-ordering system should primarily allow the customer to preorder or live order food on relevant platforms, including a web, app, kiosk, or table shop.
Equally importantly, it should also:
1. Include an adequate backoffice order management interface for your staff. The order management system should offer advanced, yet simple-to-use features for managing products, orders, communication, and much more.
2. Be centralised. In addition to offering various ordering options for your customers, it is key to have the same digital commerce platform driving all the channels. This way, you only need to maintain your product, prices, orders, etc. in one and the same backoffice.
When adding new products to your menu, all you need to do is add them to one central place, and they will be reflected across all of your digital sales channels.
3. Offer easy integration. Last but not least, it is important to have a solution that can integrate to your POS system and, if needed, to a KDS solution. This creates an integrated solution that makes moving data between systems that need the data seamless.
In the coming sections, we will provide a clear overview of how an advanced food ordering system can fuel your sales. We will cover what value shops for different channels bring and what they should look like.
A good web shop is an important basic aspect of your food ordering system. Today, many companies' web shops unfortunately do not drive significant sales, and this is a missed opportunity for growth.
Most web shop food sales are driven by large food ordering platforms such as Just Eat. The main issue with this approach is the high commission you need to pay to these platforms. In many cases, this leaves too little profit for the food company.
However, if your company's own web shop is constructed and managed correctly, it will significantly increase your sales. Obviously, the ease of use, intuitive selection and suitable ordering processes are key to success, and it is important that the website is responsive so that it adapts to different sizes of devices and supports ordering from phone and tablet.
However, there is more to a successful web shop.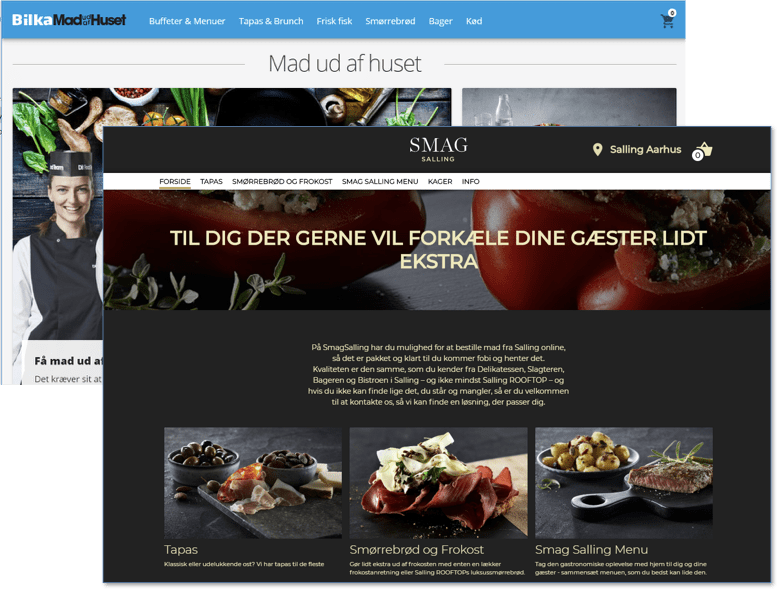 To optimise this sales channel, your web shop must efficiently support marketing activities and analytics.
It is vital that the solution is optimal when it comes to SEO, and the ability to link directly to specific products, especially from Google AdWords. At the same time, it is important that analytics tools are set up to monitor where traffic comes from and what gives the best return on marketing spend.
Another important aspect is the ability to optimise the workflow for exactly your business type, e.g. make the right upsales at the right point of time in the ordering process. It is also a matter of having a strong content management backoffice that makes it possible to launch new products and campaigns efficiently.
Bilka, a Danish retailer with a division for catering services uses our Sprinting FoodShop solution. The first year after launching the solution and optimising their marketing spend, they saw a 50% growth in catering sales. Already in the first year 50% of their sales happened online, which grew to 60% the subsequent year.
Mobile apps for food pre-ordering
Mobile apps for food pre-ordering
There is huge potential for giving your customers access to a mobile pre-ordering app, especially for your regular customers or for customers you want to convert into being regulars.
Ordering takeaway or eat-in food and drinks is very often an impulse that can quickly go away if it is not easy to order and make the purchase. If you do not offer the most convenient purchase option, the sale might go to your competitor. Opening a website and typing your credit card information is a much more cumbersome process than opening an ordering app on your smartphone.
A missed sale will never come back.
An increasing number of customers prefer to use apps on their own phones to pre-order. Data from Mobile Order-Ahead Tracker shows that the volume of food and drinks orders placed via mobile apps grew by 130 percent between 2016 and 2018 in the USA.
Moreover, orders made using digital apps also tend to be larger. The large fast food chain Taco Bell saw a 20% increase in order value in orders made using the app compared to those taken by staff.
There is a limit to how many apps consumers want to download, but if your customer finds your app valuable, they will also spend the time on downloading it – and using it. Obviously, the bigger customer volume and brand awareness your company already has, the easier it is to get customers to download and use your app. The smaller volume you have and the fewer regulars you have, the more you have to work on making the app investment feasible.
Regardless of your size, adding loyalty features to your app will spark sales coming from your app and increase the inflow of orders. Think of how you can add value through loyalty reward programs, surprise-and-delight offers, gamification, and similar features.
Kiosk shop in the restaurant
Kiosk shop in the restaurant
A huge driver for optimising your business performance in terms of sales, efficiency and customer satisfaction is introducing a self-service ordering kiosk in your restaurant or café.
Naturally, kiosks are not relevant for all types of food business, for example they do not make sense for most high end a la carte restaurants. However, for many food businesses, adding a kiosk solution will give a tremendous lift to customer experience and satisfaction and therefore brand perception.
Let us first look at customer satisfaction. A survey conducted by Tillster shows that 60% of customers would visit a restaurant more often if it offered the kiosk self-service option. Many people prefer the ease of self-ordering and other people seek to avoid personnel interaction. Regardless of motivation, people should get access to self-service if that is what they prefer.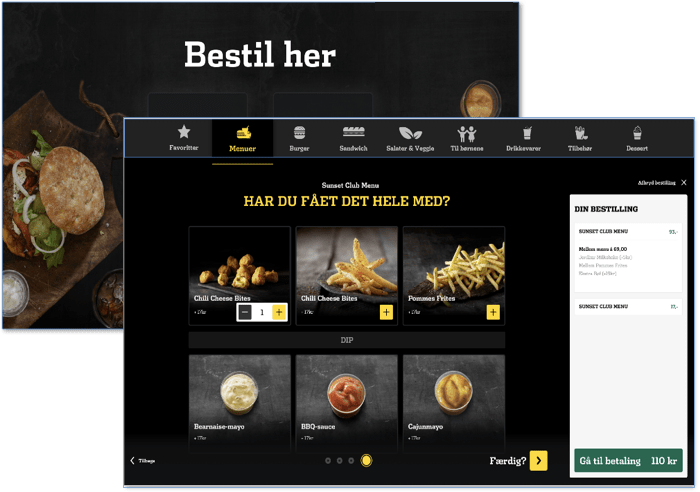 Another benefit of self-service are the efficiency gains. Every order placed digitally will save your staff valuable time that they can use on improving your product or serving your customers better. Ultimately, it can also reduce your need for staff in rush hours or in general, having a direct impact on your cost levels.
A very important aspect of a kiosk solution is that it increases the size of each purchase the customer makes. This happens because customers can linger longer when they serve themselves, and some people do not like to be upsold by a person. It is different when a screen presents the upsales option. A well-known example of this is McDonalds' publishing of their data showing that their consumers spend 30% more when they order through self-service kiosks.
Table shop food ordering system
Table shop food ordering system
Kiosk shops are not the only option that allows customers to pre-order in a restaurant or a café. You can also allow customers to order directly from a table at your venue.
In some restaurants, there are mounted screens at each table. However, this is a rather expensive option. A straightforward option for you is to place a table number including e.g. a QR code at each table. When the customer scans the QR code using his/her smartphone the customer is offered to open either your web shop or your app shop.
According to a study by University of Pennsylvania, table shop ordering can improve average sales per check by 3% and reduce the meal duration by 10%, which increases overall sales productivity by 11%. For this type of digitalisation and self-service, the main objective is therefore giving customers the option of ordering the way they prefer.
This increases customer satisfaction and productivity in your business.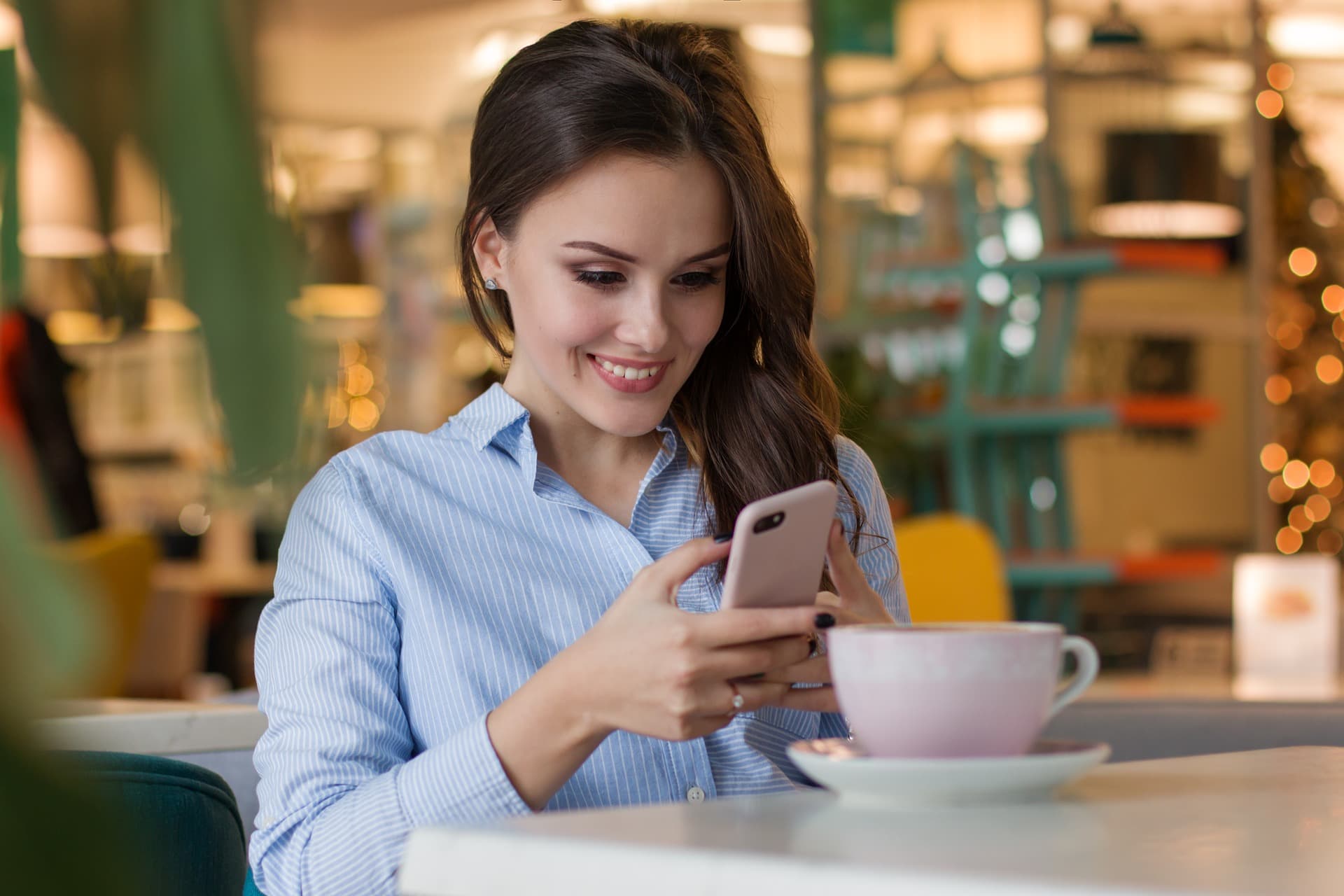 Sitting at the table will also mean that your customers will have time to download your app and start using it. This will give you a unique opportunity to get more users on your app.
Once customers have downloaded your app, a world of options will open for you in terms of working with customers' loyalty and analysing their behaviour.
Digital table ordering allows you to fulfil orders faster and more accurately, along with allowing your customers to use the ordering methods of their choice.
Regardless of whether your food business is a restaurant, café, canteen or a catering service, it is essential to give your customers the possibility to order in the way that suits them the most. The right solution will significantly increase your sales, up-sales, customer satisfaction, and your productivity.
Depending on your business type, your digital food ordering system should provide your customers with the relevant pre-ordering and live ordering methods in the form of web, app, kiosk, and table shops.
Now that you have a clear overview of all the relevant digital ordering methods and channels, which options would you like to introduce in your food and drinks business?
Self-checkout has many advantages, but it requires smart theft prevention. Read this post to learn about optimal systems to prevent mobile self-checkout theft.
Events are a great way for retailers to learn about the latest trends and solutions. Read this post to find out about top retail events in Europe in 2020.
Launching solutions such as self-checkout in retail is a great way to create more optimal customer experiences. Here is what to consider when introducing one.
Self-checkout has many advantages, but it requires smart theft prevention. Read this post to learn about optimal systems to prevent mobile self-checkout theft.
Events are a great way for retailers to learn about the latest trends and solutions. Read this post to find out about top retail events in Europe in 2020.
Launching solutions such as self-checkout in retail is a great way to create more optimal customer experiences. Here is what to consider when introducing one.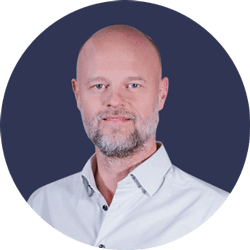 Thorbjørn Schmidt-Jacobsen
Commercial Director
Sprinting Software
Partner and Commercial Director at Sprinting Software. Leads sales with the aim of growing the company together with many skilled colleagues. Highly experienced in digital transformation, business processes, cloud solutions, business strategy, global sales, marketing and customer relationship management.